In this digital era, a virtual assistant (Voice Assistant), AI (Artificial Intelligence) assistant or digital assistant, is an application program that processes natural language voice commands to complete specific tasks for the user. Historically, such tasks were performed by a secretary or personal assistant and included taking dictation, reading text or email messages, finding contacts & placing phone calls and even reminding the user about appointments. Today the power of voice can be given to each and every individual by 4 major platforms:
Amazon Alexa
Google Assistant
Apple's Siri
Microsoft's Cortana
Virtual assistant devices and technology
Virtual assistants (VA's) are typically programs on the digital cloud and are always connected to the internet to retrieve information and perform tasks whenever demanded.
The most popular VA's available in the market are from Amazon, Google and Apple. To use Amazon's Echo VA, one needs to use a wake word, "Alexa." A beautiful circular LED on the Echo signals the user that it is ready to receive a command. Now you can ask Alexa multiple questions, play music of your choice or even integrate a smart home with it. All the requests are processed on Amazon's cloud services.
The technology that powers VA's require massive data storage and processing, which feeds artificial intelligence (AI) & machine learning (ML) platforms. They use sophisticated algorithms, language processing and speech recognition patterns to evolve and become better at predicting the user's needs.
Virtual assistant capabilities
Virtual assistants are good at performing simple tasks, such as setting up a reminder or a timer, speaking out information from the web or controlling smart home devices, including intelligent thermostats, smart security cameras and smart lights.
VA's are evolving with Artificial Intelligence and ML and can make or receive phone calls, create and send text messages, get news and weather reports, find directions, book hotels or restaurants, pay your bills online, check and remind calendar feeds and the applications are going endless.
The Best Virtual Assistants – Summed up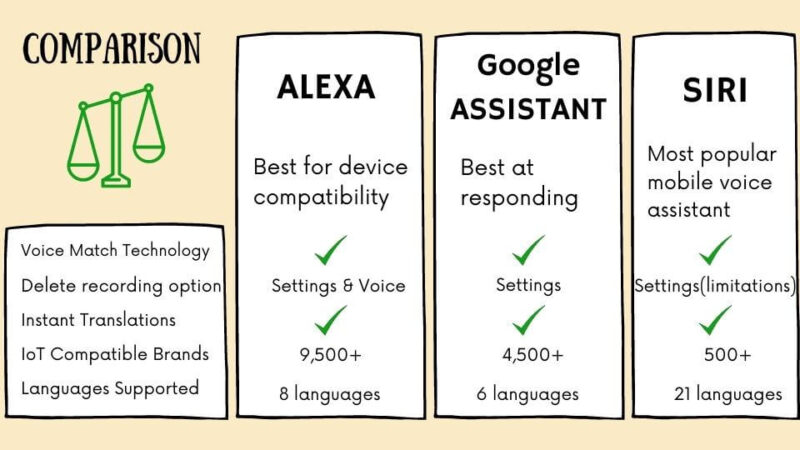 Comparison Criteria for Virtual Assistants
We rate smart virtual assistants based on the below parameters:
Compatibility
An intelligent VA can accomplish basic tasks and access apps. It could process simple home commands, like operating smart lights or control smart thermostats. The motive is to make manual redundant tasks at home simpler to save time and effort.
VA's with an inbuilt video functionality can help pep up the security of a home by popping up the screen and simultaneous announcements in case a motion is detected inside the area being monitored. It takes a seasoned platform with a broad range compatibility to create a worthy VA. Other smaller platforms do exist but would stand a tough competition when it comes to a broad range of compatible devices.
Third-party developers generally program devices to some very well-known platforms to boost their usage and sales. Some of the best preferred platforms for development of IoT devices are:
• Amazon Alexa
• Google Home
• Apple's Siri
• Microsoft Cortana
• Samsung Bixby
Precise information and completion of tasks
In terms of giving precise and correct information to over thousands of asked question Google Home turns out to be a winner. This must be possible because of the strong backing from Google Search which dominates the world in terms of search engine technology. Next in place comes Amazon Alexa followed Microsoft Cortana majorly because of the successful window platforms operating on 78% PCs today. Apple's Siri comes next but the search library is ever expanding due to its massive customer acquisition and brand name the world over.
Affiliated smart speakers
According to a survey conducted with more than 1100+ people about their preferred home automation devices, Smart speakers & home hubs came on top. It has been observed that people generally use voice to control their smart home devices, hence the need of a smart speaker as a voice assistant. Amazon, Google and Apple offer smart speakers and hubs to control the smart home devices. Most third party developers develop smart home devices revolving around these popular major platforms. Microsoft's is available mostly through third-party devices whereas Samsung is exploring and continuously updating its cloud library to improve its smart speaker functionality.
The Best Virtual Assistants
Amazon Alexa
Merits:
Intelligence
Alexa from Amazon answers basic questions & performs simple functions such as creating reminders, shopping lists, setting up alarms and timers and playing songs from various playlists. It has a Follow-up Mode for listening to multiple commands and would not need to be woken up every time. The technology inside Alexa's cloud is evolving fast and learning more quickly than its competition. The more the usage grows, the faster it evolves to perform complex tasks with greater accuracy.
Smart home integration
Amazon Alexa has a great compatibility with most smart home devices available in the market in comparison to other VAs. Alexa is compatible with more than 9500+ brands and counting which is much more 4500+ brands being compatible with Google Home Assistant and mere 500+ brands with Apple's Siri. So, clearly, Alexa is winning with automating your home followed by Google's Assistant which is catching up fast. Smart Homes are the future and a high level of compatibility in this category is important for the growth of VAs
Shopping via Voice
Alexa's amazing connection to Amazon shopping offers a great shopping experience. Amazon Alexa would require a prime membership to explore its full potential such as shopping for groceries created with Shopping lists created with Alexa, tracking orders, paying utility bills. Alexa can even be told to remind you with Amazon's deals every day.
Setbacks:
Irrelevant answers
Alexa has a slight tendency to give incorrect or irrelevant answers. It might even take a few attempts to get to the answer you are looking for. This is primarily because Alexa is now answering much more questions than ever. The algorithms are learning fast and are evolving at a superb pace, though VA technology is still at an early stage worldwide.
Lack of mobile experience
Alexa does not come pre-installed into mobile phones nor does Amazon manufacture in-house mobile phones to integrate the Alexa platform. You will need to manually download the Amazon Alexa app into your Google or Apple phone but then, Alexa won't be the default VA on your mobile.
Google Assistant
Merits:
Accuracy
Google Assistant has consistently outperformed other VA platforms at responding to questions accurately. The Google VA platform can process two commands at once which is better than Alexa's Follow-Up Mode. Commands such as adjusting the thermostat and turning on the smart light can be handled at the same time by Google Assistant's updated technology which is currently not the case with Alexa. Google response time is also incredible when compared to Alexa.
Expanding capabilities
In terms smart device compatibility, Google is ever expanding its capabilities. It has a popular Assistant on phone, a powerful voice search engine, YouTube integration & an ever evolving Smart Home speaker. Google is virtually in every sphere of technology due to which it poses a strong competition to other platforms. With Routines functionality, Google VA can process multiple commands and perform the preprogramed tasks. For example, saying "Hey Google, start my day", will trigger your smart assistant to open your smart blinds, tell you the weather, run you through your day's calendar and stream your favorite music.
Google brands integration
Google is expanding into every sphere and acquiring multiple brands worldwide to increase its IoT device compatibility. Smart Homes are the future and Google is well aware. It is taking all possible steps to be a big player in the market.
Setbacks:
Second-best in compatibility
While Amazon has more of an open-door policy that does not restrict third party programmers to utilize their platform to build compatible devices, Google is restricting its platform and compatibility with only Google integrated devices to enhance security measures in their smart devices. Google knows that it is a big challenge to prevent hackers to hack into the security system if it is allowed to expand to third party providers. For those prioritizing flexibility for their home automation needs, Alexa works better.
Apple's Siri
Merits:
Apple ecosystem
Apple HomePod integrates well with the Apple ecosystem. When choosing the Apple VA, consider your loyalty towards the Apple brand and the other home tech devices you use. If you are a fan of the Apple brand and are excited to buy each and every product it brings out to the market, you would love the synchronization. Apple's products leverage each other's strengths to create a wonderful ecosystem. Products such as Apple IPad, Homekit, HomePod, iWatch, etc works the best when synced together.
Apple's Seamless Compatibility
Siri, comes pre-activated on more than 2 billion Apple devices. HomeKit is Apple's home automation service which can be synced to smart bulb, smart locks, and smart security system that can be activated on just a command through Siri. Though the integrations are very limited, but Apple loves to regulate what is available to make its products effective and easy to use. The HomePod also makes Apple's HomeKit work flawlessly for home automation making the whole experience a breeze.
Multiple Language support
Siri understands and responds to 21 languages as on date. This is the main advantage of Apple's VA to others. Google and Alexa understand and respond in just 6-8 languages which makes Apple adoption far better worldwide than the Google Home and Amazon Alexa. Apple is now starting to see massive adoption with the Iphone and Siri with their aggressive pricing strategy to make its products more affordable.
Setbacks:
Limited access to apps via voice
Apple develops a complete ecosystem and does not have much of voice applications with other third party service providers. This means that popular streaming services like Spotify or Netflix are not accessible through Siri with a voice search. This works well for people who can skip such popular streaming services and use an iTunes account instead to access Apple music or Apple TV. But, for those who love these popular services and enjoy exploring new services frequently, a more flexible voice assistant is better.
Limited control with devices
Apple integrates well with the HomeKit for home automation to control basic features. While the Apple ecosystem needs to work better to include a larger range of products that can integrate well with the ecosystem, currently other VA's may not be versatile enough to support Apple devices with their smart speakers and voice applications. For a huge number of interoperating devices, Alexa and Google would make more sense.
Guide to the Best Voice Assistants
Remember that voice assistants are still developing
Voice assistants are still in the early stages of development, but due to their superb capability of adding convenience to everyday life, they are seeing a surge in demand. Through advanced AI and ML algorithms, they are evolving rapidly.
Stay up to date with advancements
Voice assistants have started to be used in latest cars, offices, smart glasses and even in toilets. Meta is working on advanced AI voice assistant technologies like Jarvis, which is an incredible source of information to any data related to our home and acts like a home management secretary.
Choose the voice assistant to match your needs
All voice assistants mentioned are good at individual capacities as discussed above. Choose your VA and corresponding home automation technology accordingly. For those who want to experiment with this technology and integrate millions of smart devices, Alexa would be a great choice. If you like to dig deep into searches and utilize all of Google's platforms, Google Assistant would be a better bet. For those who are in love with the Apple ecosystem and always like to go with the Apple niche, no matter what product or service, must go for the Siri VA. Recognize your need and adopt accordingly.
Be proactive about privacy
To help people become comfortable bringing smart devices home, tech companies are taking numerous steps to counter privacy concerns. Companies are becoming privacy-friendly by introducing strict privacy policies to protect the user's rights.
Virtual assistant privacy concerns
Even after continuous efforts from tech companies, people have still expressed privacy issues about VA's, such as Amazon Alexa & Google Home. As these process large amounts of personal data and are always in "listening" mode to respond to the wake word, they tend to retain voice history and information to improve the user experience.
Microsoft's VA, Cortana, for example, works best by using user's device data, including emails, messages, contacts, location information, search history, and third-party applications data. Users can opt out of the sign in process with Cortana, deny permissions and prevent specific data from being collected. Each and every user is different – while some like to be given suggestions based on their activity, others prefer to be private.
Virtual assistant providers adhere to strict privacy policies, which define how each organization uses and shares personal data. Companies are not allowed to share user's personal information without their consent.
Deleting voice assistant recordings:
Amazon Alexa: it is super easy by voice command. Just say, "Alexa, delete everything I said today," or "Alexa, delete what I just said."
Google Assistant: In Settings, find the delete option and also turn off voice data storage.
Apple Siri:  Turn Siri off in setting and disable dictation on device. Also delete 'recent recordings'
Microsoft Cortana: In Microsoft Privacy Dashboard Voice History, delete recordings you don't intend to reveal. Also adjust settings on how much info can be collected.
Samsung Bixby: In Bixby Home, find recording history and delete in My Bixby.
The future of virtual assistants
Virtual assistants are evolving with AI and ML technologies to provide limitless capabilities and value to users. Virtual assistant are now moving deeper into business workflows with tech organizations adopting the technology at an industrial level. Industry 4.0, for example, is the robotic workflow process of evolved organizations having complex language processing capabilities to perform sophisticated design and manufacturing processes within minutes of your voice command.
As in any sci-fi movie, Virtual assistants like Jarvis (from the Iron Man series) will be built with more advanced technologies, allowing them to understand and carry out multiple requests and perform immensely complex tasks, such as making a plane reservation, and controlling your smart devices from any part of the universe. The VA market is experiencing a rapid growth and is forecasted to reach USD 6.28 billion by 2026.