A home feels lively when it is bright and airy. It also gives positive vibes and makes one feel rejuvenated. Here are a few tips on how you can use daylight to your advantage.
Methods for taking advantage of daylight
Consider the direction of Sun
This is the first and foremost important part in illuminating your home with natural light. The sun rises in the east, moves southwards and sets in the west. Generally, homes facing north lack direct sunlight but provide for a cool setting in warmer countries. While, houses facing east or south provide for good sunlight both in the mornings and afternoon.
Use Huge Reflective Glass Window
The best way to let natural daylight into your home is to install huge windows with reflective glass. The huge picture windows will give maximum visibility to outside landscapes while bringing in a good amount of daylight. This can also help in huge electricity savings, since no lighting is required during the day. Reflective glass would prevent heating up of the home due to the greenhouse effect of the sun. Double glazed reflective glass windows are super effective in combating heat where there is direct sunlight throughout the day, while bringing in good amount of natural light.
Choose Lighter color pallets
Using lighter colors for most walls and surfaces helps reflect sunlight entering the home, which in turn highlights the room and makes the home bright & lively. Shades of white will make a space feel bigger while reflecting light entering a room, rather than absorbing it. Painting the ceiling one or two shades lighter than the walls creates the illusion of height and space. Choosing a paint with a satin finish helps reflect light more than a matt paint.
Prefer shiny surfaces in smaller rooms
Try to use shiny surfaces in smaller rooms such as bathrooms and kitchens, as shiny surface and a touch of granite would make the room look clean and reflect the light entering small spaces. Blending metallic, glass and mirrors can help make most of the available natural light and also add a stylish look throughout the home.
Flooring
Choosing stone, ceramic or wooden finishes instead of carpets can help brighten up your home. But, if you still prefer carpets, then stick to light, neutral colors.
Clean Windows
Keeping the windows clean will help make the sunlight penetrate deep into the home. Dust particles on windows would reflect natural light from outside the home preventing it to enter your beautiful abode.
Furniture placement & upholstery color palettes
Placing the furniture right to avoid blocking windows is a good way to start with. Try combining the trick with light color upholstery in living room and bedrooms to get a bright, lively space. Make sure that the curtains are also a lighter shade. Using a privacy film instead of curtains can be a great idea for areas where there are smaller windows and light is essential. Remove dark furniture and accessories in favor of lighter shades wherever possible.
Use Stainless Steel appliances

Especially in kitchen appliances such as chimneys, ovens, dishwashers, refrigerators. Stainless steel would make your kitchen look elegant as well as reflecting light to make your kitchen feel brighter.
Use Mirrors
Mirrors when placed strategically can help bring in daylight into the home. When placed opposite to windows, mirrors can instantly brighten up even a huge room. Mirrors are also most effective in enlarging small spaces. Adding mirrors to a small room may instantly make the room feel much larger. If you believe in Vastu, try installing mirrors on North or East wall to bring in great positive energy into your home.
Glass Tiles
Replacing walls in cramped spaces such as a small powder room, a narrow entryway, a cluttered kitchen or a tiny laundry room with Glass blocks may be a great idea. Glass tiles make spaces feel bigger and brighter by bouncing light throughout a room. They are easy to clean and maintain but generally require a professional installation.
Installing Skylight & Roof Lanterns
Skylights are a great way to bring in natural light and highlight the architectural aspects defining your home. Apart from bringing in daylight, they help in making rooms feel bigger, provide for natural ventilation and have added health benefits. You can also make your skylight smart by attaching it to a solar powered systems and adding a couple of sensors to monitor the indoor temperature. That way the skylights open and shut to maintain the inside temperature thereby reducing energy usage. Roof lanterns are generally installed on flat roofs in specific locations as they have heavy glass structures requiring great maintenance costs.
Clerestory Windows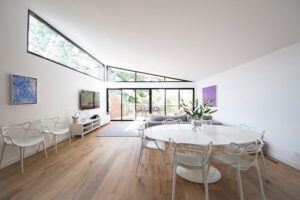 They are defined as a high section of wall containing windows above eye level. Their purpose is to admit light, fresh air, or both. Clerestory windows bring in natural daylight but also can heat up your home if added incorrectly. Windows on the south-facing side of your house will help generate more warmth in winter sun. But, if you want to reduce heating, do the reverse: Installing clerestory on the north side will allow natural light in during the cooler part of the day. Installing them near a tree shade will filter direct sunlight. Clerestory windows can be set high on the walls and protected by roof overhangs to allow winter sun in but protect the home from summer heat. A row of windows placed up high lets in a more ambient light than windows placed lower. Openable clerestory windows allow for fresh air to flow and circulate.
Borrowing light
Borrowed light is typically light entering the interior of a home space in an otherwise dark room or passage from an adjoining space having windows, clerestory or skylights.  Light can also be borrowed through openings in walls or translucent surfaces.
Use doors with windows
It is an innovative solution which combines the best of both worlds. The security and privacy of a door, and the transparency of a window for the flow of light inside the home. Glazing, also known as glass in a front door, is the window inside of a door. It allows in natural light and can help brighten a doorway. They can conveniently be used in secure and guarded locations.
Solar tubes or Tubular Lights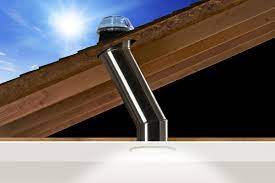 They are best used as an alternative to natural skylight as they are more cost effective and provide daylight without glare or heat gain. Nowadays, they can be combined with LEDs to make great innovative lighting solutions.
Redirection devices
Daylight redirection devices take incoming direct beam sunlight and redirect it, generally onto the ceiling of a space. This makes the room brighter and allows light inside cramped spaces
Daylight Responsive Lighting Controls
They essentially consist of light sensing sensors. When there is adequate ambient lighting provided from daylight alone, this system has the capability to reduce electric lighting power. This smart technology helps in saving electricity by illuminating home with natural daylight whenever possible.
Smart Curtains and blinds can help bring in natural daylight at pre-programmed times through the day. Combined with a sensor, the system can detect temperature changes due to solar gain and can automatically trigger the blinds and curtains to open or shut and maintain comfortable temperatures inside the home. This saves electricity costs and allows maximum daylight penetration as well.
Modern Innovations
Innovations such as the Sunrooof Wellness lighting solutions just requires a 10 inch thickness of ceiling and does not also require a direct access to the ceiling above the floor. This means that you have access to benefits of sunlight in every room, even if the spaces within your home are pretty much closed.
Lighting
This is wonderful way if you are a fan of modern lighting techniques to highlight your home spaces. There are many varieties of LED lights flooding the markets but you need to have a professional guidance to make it look elegant.  Smart light bulbs are a revolution and can be pre-programmed to turn on and off at particular pre-set times. Combined with smart sensors, they can help save a lot of electricity by intelligently controlling the lighting throughout your home.
Advantages of Daylight
Increased Sustainability
Natural light helps reduce our dependency on fossil fuels to produce electricity. Admitting more natural light into homes and using energy efficient technology would surely bring us closer to a more sustainable environment.
Health Benefits
Sunlight enhances Vitamin D and Vitamin B production. While Vitamin D promotes healthy brain, bone, muscle and immune system growth, Vitamin B complexes help in creating a healthy skin while keeping skin diseases away.
Increases Efficiency
Sunlight decreases production of melatonin, a hormone that encourages sleep. This allows one to be more efficient during the day and a get a relaxed sleep during night.
Using the methods described above to bring in more light into your home, energy savings are literally guaranteed with the new technology and better insulation techniques.
Psychological Benefits
Natural daylight Improves mental wellbeing, increases focus, thus help in faster learning, increased memory retention, reduced stress.
Feeling of openness and positivity
Daylight helps produce hormones that gives one a feeling of happiness, helps combat pain, and gives one a more optimistic outlook to life.
Natural light makes the home feel bigger, brighter and airy. It instantly gives positive vibes to anyone entering your place.
Disadvantages of Daylight
Day lighting calls for controlling the amount of heat that enters your home. Because the sun is such a powerful source, it can also produce tremendous amounts of heat. If not planned properly, using natural lighting can result in undesirable heat gains.
Another important point is controlling glare. In a home office setup, avoid direct sunlight penetrating which can make it difficult to work or view a computer screen.
Conclusion
The present generation spends 90% of the time indoors, which is close to 22 hours per day. Interacting with our natural environment therefore becomes our topmost priority for a healthy living. From an interior design standpoint, the minimalist and brighter the room is, the more comfortable it feels.
Nature is our most treasured commodity, the sun being the center of a sustainable ecosystem. Let us let the sun into our homes and reap its benefits in numerous ways.