The ACE Tech Exhibition happens just once a year showcasing the top of the line technology used in the Architecture, Construction and Engineering Design (ACE) industry. This is Asia's largest Architecture, Building Material & Design Exhibition held at Pragati Maidan, New Delhi from the 16-19th December 2021.
ACE is a part of the group based out of Mumbai.
Multiple Indian and International brands participated in the exhibition. I would love to highlight the few I found really special.
SUNROOOF
This was one of the best concepts I found in the exhibition. An absolutely amazing idea to put the sunlight right into the living spaces. Called as Wellness lighting, the concept seems so realistic. The installation just requires a 10 inch thickness of the ceiling and does not require a direct access to roof to be present above the floor. This means that you have access to the benefits of sunlight in every room, even if the spaces within your abode are pretty much closed.
As per this concept, The Vāstuśāstra emphasizes constructing buildings and houses that allow sunlight from all around. Unfortunately due to unethical designs of our houses and workspaces, we are forced to spend time devoid of any source of natural light.
Magppie brings the concept of Wellness Architecture, deriving motivation from being one of the few Wellness brands in India. Taking inspiration from their Satvic Movement emerged their wellness kitchen and now to the profound Magppie Wellness Lighting, which is called as "Sunrooof".
As they embark on this journey to bring human health – physical & emotional – via sunlight, they are transcending the lighting industry to merge it with the health industry.
"Magppie Sunrooof is our gift to the planet that is in dire need of protection at all times." says the founder. The site is under development phase, you can stay updated at www.sunrooof.com
MAGPPIE KITCHENS
Again from the creators of the magical SUNROOOF concept, Magppie comes with an amazing range of kitchen designs and home interiors. Designed with utmost precision and keeping even minutest of its client's details in mind, they design fully functional kitchen and living spaces.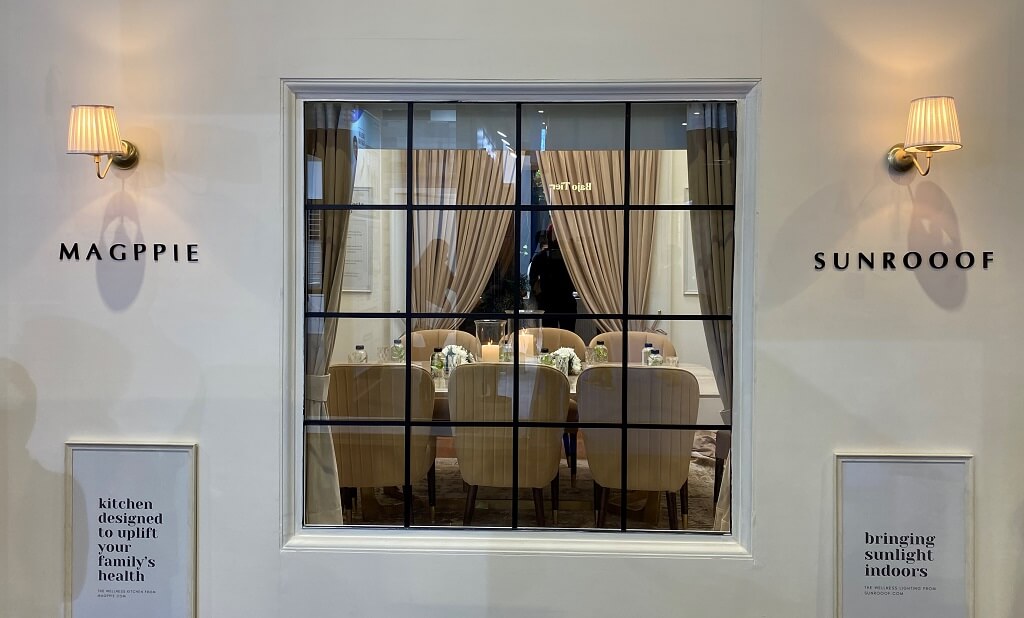 "Magppie is not just a kitchen or furniture maker, but also a technology and design company with a focus on creating energy in the space.
Everything around us is made up of energy. A space filled with positive energy attracts positive emotions while a space filled with negative energy attracts negative emotions. At Magppie, we create a spaces filled with positive energy using color therapeutics, kitchen gardening and environmentally friendly materials that affect your well-being, mood and health. We carefully select all the things which fill your spaces from the plants you keep to the furnishings you install.
At Magppie, we emphasise the importance of creating interiors that are in harmony with the individuals using them. We understand your environment, your culture and your lifestyle and thoughtfully articulate this understanding to create not just a product, but an experience around you. We create spaces where you can have experiences that can become memories and memories that make you happy."
Also check out what makes Magppie unique by following the link below:
https://www.magppiekitchen.com/what-makes-us-unique
HOGAR SMART HOME
Founded in 2015, Hogar Controls is a global IoT company with design-first approach delivering powerful solutions for Smart Cities, Communities, Buildings, Hospitality, Commercial, Living and Working Spaces. In 2018, they combined cutting-edge technology and design thinking to offer homeowners, retailers and professional integrators a range of products that are innovative, intuitive and stylish. Hogar offerings are designed as plug-and-play solutions that provide user-friendly control and can be customized to fit the needs of your home, office or hotel like a glove.
Don't just settle for smart, go beyond. Home is eternal bliss. It's the space which reflects our individuality and aspirations. Hogar believes in catering to the potential needs of its clients and in providing a holistic smart home solution thereby transforming their vision into reality with smart, stylish and unique products.
Visit them at https://hogarcontrols.com/
KUMAR AND ASSOCIATES
Founded from the stemming passion and love for unconventional buildings, Kumar and Associates offer comprehensive and customised space solutions for residential and commercial sectors. They have established themselves as a supreme manufacturer and supplier of shipping container spaces with industry knowledge, pre-engineering excellence and extensive research. Their Laser-sharp focus with wholehearted commitment and dedication makes them the most trusted for shipping container homes and other types of container construction projects.
"Our customized shipping containers and other structures are meticulously designed, cherished and adored for their extreme durability, efficiency, reliability and most importantly, affordability. With numerous choices, we deliver spaces that complement your desires without slowing down the momentum of building with predictability in costs and timelines
Our product portfolio encompasses a wide gamut of industries, construction, engineering, pre-engineered, pre-fabricated, and various other sectors.
We at Kumar and Associates relentlessly strive to cater to the needs of our customers by going through leaps and bounds. We as a company has always put our customers' satisfaction as our prime focus rather than stacking cash.
Since the beginning, running a successful business has helped us focus more on nurturing the relationship with our clients, address their concerns, and satisfy their needs. Therefore, we don't believe in a push sale strategy, but rather we focus on truly helping our clients and ushering them into the futuristic smart world of eco-friendly infrastructures." Comments the CEO of the group.
Visit them at http://kumarandassociates.com/
HOHM from POLYCAB
Hohm is a smart automation solution from the house of Polycab India Ltd – Leaders in Wires and Cables and having a diverse range of FMEG Product portfolio. Polycab India has 25 in-house manufacturing facilities with strong Backward Integration and PAN India distribution.
With Hohm smart automation solutions, you can design a living space that obeys your every command. Now control your comfort, convenience and entertainment from any room in your house or any place on the planet. Hohm's competence in automation spans products like Fans, Lighting, Switches, Water Heaters and other evolving solutions. Using state-of-the-art mobile app and voice control, you can enjoy your home experience to the fullest and make your life more comfortable, more efficient, and more secure.
Visit them at https://polycab.com/hohm/
OSAANJ TILES

Osaanj is a leading surface manufacturing brand in India. Delivering a range of exquisite products, we lay a deep emphasis on superior quality while ensuring it doesn't burn a hole in your pockets. With a rich experience of over 20+ years, our dynamic team is dedicated towards offering the finest home surface solutions.
Visit them at https://www.osaanj.com/
MATERIAL CONNECTION
Material Connection handpicks the best global building materials for the Indian market. At the core, they offer lowest prices, premium quality, quick manufacturing services for retail, residential, hospitality and commercial spaces. They offer items such as
Decorative Veneered Plywood (300 species) (4MM-40MM)
Calibrated Plywood (Marine Grade and Furniture Grade)
M space saver furniture
Fire Retardant Concrete Plywood
Oriental Strand Boards
Flooring
Colortek Range of Decorative Paints
Marble
They inspire architects, builders, interior designers and end users with nature's best designs, textures and beauty which can be retained and further add value to the interior styling
"Material Connection endeavours to save precious on-site time and efforts while minimizing costs associated with labour and engineering. With enhanced finesse you get what you desire."
Visit them at https://www.materialconnection.in/
STONEWIZ
StoneWiz manufactures Architectural Stone Wall Veneer which harnesses the elegance and beauty of nature. It is a proprietary blend of natural ingredients and the craftsmanship of their renowned artisans which has enabled them to create a product that captures the inherent beauty of natural stone without the negative environment impact of mining for natural stone. Their designs have been carefully selected from stones available from all across the world. Their artisans work diligently by hand to add life to the designs and manufacture products that reflect the awe inspiring beauty of nature.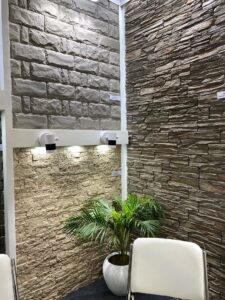 StoneWiz manufactured stone as compared to traditional natural stone is lightweight, easier and faster to install, fungus resistant, eco friendly and require very little maintenance. Over the years of their existence, they have created numerous designs along with multiple shades giving their customers extensive options to choose from. They actively collaborate with each and every customer to customize their products according to the customer's needs.
Visit them at https://www.stonewiz.in/
OYSTER BATH SUNSHOWER
Oyster Bath Concepts has redefined and elevated the way we experience water. This brand has been at the forefront of bathroom innovation, since 2003. With their avant-garde and functional designs, the brand continues to evolve new and varied collections of wellness & bath fittings that appeal to the sensibilities of today's designer age. The company's credo of 'a product for everyone,' has resulted in an impressive portfolio of bath products & accessories.
Visit them at https://www.oysterbath.com/
AURUM STUDIO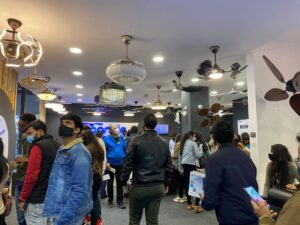 The Aurum Studio presents luxury as defined by Mr.Domenico de Sole for those who appreciate things that are beautiful.
A splendid blend of style, state of the art features and innovation explicitly designed to represent the elegance, the sophistication that lends the "majestic grandeur" to the dream home it deserves.  An ideal match for any contemporary interior spaces.
Designed with the attention to detail, The Aurum Studio brings an exclusive range of designer fans and exquisite chandeliers, innovative lighting solutions and automation to uplift the living experience.
The Aurum Studio is a dream project of Mr. Mohit Gupta and Mr. Rohit Gupta; who are passionate and committed to provide inspirational designer products of international standards to the Indian Market.
The Aurum Studio is truly the expression of desire to proudly showcase experience, expertise and excellence in finer things.
Visit them at https://theaurumstudio.com/
ATCOM LED
A very innovative Architectural, Decorative and Technical Lighting brand based at Delhi. They have a huge variety of LED lighting technology from Magnetic Running Track systems to antiglare linear and skyline lighting in all geometric shapes and sizes.
Visit their FB page at https://www.facebook.com/atcomled/ & Website at https://www.atcomled.com/
STONE LAM
Stone Lam's surfaces are inspired by nature with an aim to redefine spaces. They use precision engineering to give the thinnest and the largest slabs in the world with their effortless elegance and charm. Sourced from Laminam SpA, Italy, these slabs can completely transform the look of any building and leave you spellbound. Stone Lam is a potent mix of international expertise and local intelligence to cater to the evolving tastes of the modern audience.
"We've revolutionized elegance and structure for your exterior architecture, interior design and furnishings."
Visit them at https://www.stonelam.com/
NEYTI by EXTRAWEAVE
Extraweave Pvt Ltd. (EWPL) is a family run business established in the year 2000. They have a vertically integrated state of the art manufacturing facility with spinning equipments imported from Ireland, dyeing machine from Italy, coating machine from USA, weaving and finishing machineries from Belgium.
A fine blend of technological advantage, superior quality, and design innovations have made Extraweave a preferred supplier for buyers across the globe. Extaweave strictly complies with all statutory and social compliances as per international standards and is subject to regular audits by international agencies.
At Extraweave it's not only business, they believe that building a better tomorrow is everyone's responsibility. Out of this social commitment the group founded the KVM Trust. A major social welfare organization that patronizes, among a host of other charitable institutions, a free school for children with special needs, a free drug & alcohol de-addiction center, a free pain and palliative center, a nursing school and an engineering & information technology college.
Visit them at https://extraweave.com/
THIRTEEN THIRTY by NARSI
Headquartered in Mumbai, Narsi is a design oriented, one-stop interior turnkey solutions
provider. It has a great strong team of innovators and passionate tech driven individuals. They use state of the art manufacturing technology, which makes them Industry 4.0 ready. Design & Build, Manufacturing and Projects are their pillars.
Visit them at https://www.narsi.in/
WORLDOFSTONES
World Of Stones is a notable, celebrated exporter and supplier of quality Indian natural stone and stone crafts.
Founded in 1999, World Of Stones has attained great heights in a very short span of time. Their passion for stone work shines through not only in the finished products but also in their annual turnover of over 30 million US dollar and an export of over 4000 containers per annum.
The pillars of the World Of Stones are young, dynamic and committed professionals who are always ready to share their expertise and are fanatically committed to quality to service their clients. They are an ISO 9001:2008, ISO 14001:2004, OHSAS 18001:2007 and SA8000 certified brand. At the core comes non-employment of child labour and using green energy to process the stone.
Visit them at https://www.worldofstones.com/
FOREST & RAIN
Forest and Rain is a company that loves nature and the natural artistry that surrounds it. From trees and plants to air, fire and wind; from animals, insects to birds, they share a bond and an innate connection with everything around nature. Their belief states:
"The entire universe and the components that make it up are always involved in a spectacular dance in which each element works in perfect coordination with others. To keep this magical dance going, we need to ensure that the natural life around us remains intact. However, with the forest cover going down, and the earth losing its green. We decided to bring some of it back in the form of Forest and Rain. We are here to create vibrant and rich Rainforests in your living spaces and homes."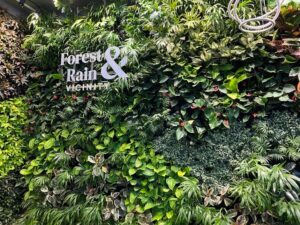 They are a group of designers, horticulturists, entrepreneurs, plant enthusiasts, who are inspired to see the earth thriving with life. As they turn your blank walls into vibrant and rich forests, they want you to experience life and nature in all its glory.
They first came across the notion of living breathable walls in Amsterdam around 8 years ago, and the memory of it inspired them to do something about it. Later, they successfully formed a partnership with Vicinity Hardware, a South African business that specialised in concept walls, and chose to bring the product to India.
Making a Difference:
For every Rs 3000 you spend with them, they pledge to plant a tree in your name. This mission is headed by the Isha foundation headed by Sadhguru, towards Cauvery Calling, a movement to plant 250 crore trees and save the dying river Cauvery.
Visit them at https://forestandrain.com/
WORTHWHILE MENTIONS:
GOMOTION: Gomotion is the good choice for experienced automation experts to implement automation with state-of-the-art motors and controls for smart solutions Shades, Blinds, Curtains, Awnings, Rolling, garage doors & much more. They have also partnered with COMUNELLO AUTOMATION for Automation of gates, doors and barriers. Visit them at https://gomotion.in/
iLIV : A great brand having complete water systems that dispense clean, mineralized, balanced, alkaline water that saves water and at the same time is recycled to be used for daily household as well as industrial activities. iLIV as a brand has a holistic approach to environment and has originated as a result of a deep sense of responsibility and consciousness towards conserving water that the parent group KNS has harboured for decades. It's a 'MAKE IN INDIA' initiative that aims to sort out the RO related water crisis in the country. Visit them at https://www.iliv.co.in/
SPARKTREE ZEMOS : ZEMOS, an innovative product from Sparktree, is a smart, eco-friendly mosquito trap that significantly reduces the incidence of mosquitoes in open spaces like lawns, playgrounds, recreational venues and open-air gathering areas. Sparktree ZEMOS is a proven solution for minimizing the risk of vector-borne diseases like dengue, malaria and the chikungunya virus. Visit them at https://sparktree.in/
FLAIS GRANITO: Flais Granito, founded in 1995 by the marshal ceramic company, is an Indian manufacturer of ceramic tiles that has expertise in producing quality ceramic products, such as porcelain slabs, GVT tiles and PGVT tiles, among others. Flais is one of leading manufacturer of ceramic tiles. their products stand out in the market because of their high-tech properties, innovative design and unbeatable quality. Visit them at https://www.flaisgranito.com/
NCL DOOR: They have introduced innovation to the door manufacturing industry. They have the country's largest door manufacturing facility that spreads over 2 lakh square feet with a capacity of 1000 doors per shift. NCL Doors is a one-stop solution, eliminating the need for multi-step installation procedures. Customisable as per your requirement, all you would need is to select the colour, texture and size. NCL Door is manufactured in technical collaboration with AGT Turkey. Superior quality raw material are imported from Europe and proprietary high density honeycomb technology sets NCL Door a class apart. Visit them at https://www.ncldoor.com/
Summary
Overall an amazing event and interaction with the brands made me learn a lot about the upcoming technology within the industry. I picked up some books from the amazing book section of the exhibition with some really interesting title written by the masters of architecture and design.
There was also a dedicated VR (Virtual Reality) studio where anyone could experience the building or interior design by virtually walking in it and experiencing the grandeur. The futuristic technology such as the Metaverse AR VR has multiple application and great use cases which can revolutionize the industry.