Congratulations on being a part of the smart home revolution! Now that you have decided on making your home smart considering the advantages it can bring you on saving your time, energy and money, it is a good idea to look in how to start by making your home truly smart and futuristic. These 15 important elements of a smart home system are a must have to start experiencing the intelligent homes you have been dreaming of. The possibilities go endless as you begin exploring!
Most Important Elements of Smart Home System
Smart Hubs
Smart Hubs seamlessly connect to Smart Home devices through Internet of Things (IoT). It is like a computer communicating to all devices at your home and has made it easy for anyone to install and use these gadgets. In some cases, just a phone will help, but if you use multiple different products or services, you might want a home automation hub to control everything and have the devices interact with each other. Because of a variety of protocols used for connecting smart home devices of multiple brands, you have to be careful in selecting the right mixture to satisfy your home automation needs.
Smart Bulbs
Right from the ones connecting with your Wi-Fi or Bluetooth to the ones with advanced functionalities needing a hub, there are a variety of smart bulbs in the market. They are a value investment and are the first step to making your home smarter and energy efficient. Today light bulbs are made to adapt according to your mood or automatically switch on or off during sunrise, sunset or pre-defined schedules.
Smart Bulbs can also be integrated with Smart LED Lighting Strips. They can hide back in your wardrobes, false ceiling, behind your bathroom mirrors, kitchens and numerous such places and provide you with ample diffused lighting for those detailed perfections!
Smart Plugs
Smart plugs are an easy and affordable way to upgrade ordinary appliances, lamps, and any other electronics into smart home devices that you can control straight from your smartphone or a hub. They can conveniently be used to switch on or off a device but cannot be made to control the integrated features within the device. Example, a smart plug can be used to switch on or off an Air conditioner but cannot be used to change temperature, fan speeds or use other inbuilt functions offered by the Air Conditioner.
Smart Switches
Smart switches are connected to your home network, providing access through Wi-Fi or a hub to remotely control the switch using an app on your smartphone or tablet. You can still turn the lights on or off as you previously did by toggling the in-wall switch.
Smart Thermostats
Smart thermostats are temperature regulators that can be used with home automation systems and are responsible for controlling your home's heating, ventilation, and air conditioning. Some smart thermostats also use smart features like a motion or occupancy sensor that determines if you're home or away and automatically change the temperature — both heating and cooling. They save on a vast amount of energy use and keeps you comfortable at all times.
Smart Speakers
As our homes get smarter, smart speakers are an essential add on. Choose between Alexa Echo (Amazon), Google Home (Google), and Apple Home Pod (Apple) for a reliable smart assistant, helping you to set timers, play music, show your favorite recipes or control all your smart home devices with just your voice.
Smart Locks
With the growing need for advanced security systems for home monitoring, smart locks can also monitor who is entering and leaving your home while you're away. While some models allow opening and closing doors through smartphones, coded lock pads, fingerprint scanners to advanced locks with motion sensors, voice command options, bio-metric scanners or a combination of multiple access techniques. You can assign special privileges to friends, family members, or maintenance staff while you are away.
Smart Video Door Bells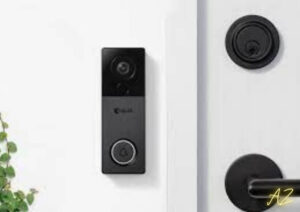 Safeguarding home against property thefts, invasions and trespassing has become a priority in securing your homes. Identifying who is at your doorstep before opening the door is always a convenience. A video doorbell is the first line of defense for homeowners. It not only allows you see and speak with the person outside, but also records footage of visitors who approach your door while you're away or give a pre-set message. These devices typically use Wi-Fi or Smart Hub to stream live video to your smartphone or smart home system and offer a variety of features including cloud video storage, motion detection, sirens, and even a direct connectivity to the nearby police station in case of suspicious activities.
Smart Motorized Window Blinds & Curtains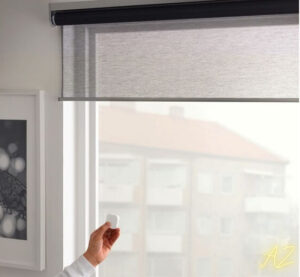 With smart blinds and curtains, you can wake up in the morning with the blinds rolling up automatically as your alarm goes off to illuminate your bedroom with natural daylight, pre-scheduled the time of opening and closing of window blinds or even operate smart blinds through your smartphone.
Smart Security Cameras
A truly smart home can let you know what's going on inside your home when you're not actually there. Whether it's checking in on your kids, pets, your precious jewellery collection, or guarding the outdoors, a home security camera is a great tool for keeping an eye on things from your smartphone or connected home security system. These can detect activity, offer two-way audio, monitor your baby, and some even double up as smart security hubs.
Smart Sensors
It is always a good idea to equip a home with smart sensors placed in different corners of your smart home to enhance the capability of your connected home. Smart Sensors detect physical and environmental factors and activate your smart electronics accordingly. It's a good feel factor when your home understands you without you even commanding it.
Smart TVs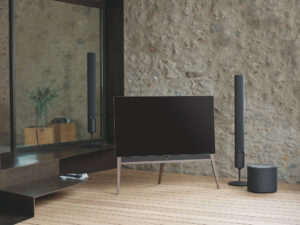 Needless to say, they are our entertainment hubs. A Smart TV today is much smarter than it used to be a decade ago. Alongside of providing entertainment with streaming services such as Netflix, Amazon Prime Video and many such services, a smart TV today converts into a Video Conferencing Hub, a screen for your connected home, video doorbell and smart security camera.
Smart Appliances
With the revolution in IoT technology and connected devices, brands have started manufacturing smart electrical appliances which can be controlled by Wi-Fi or a smart hub in a connected home. Right from Washing Machines, Air Conditioners, Dishwashers to even microwave ovens and coffee machines, everything can be controlled remotely.
Smart Tags
Finding your misplaced items at home might sometimes be so time consuming, especially when you need to rush out for that urgent meeting. Not anymore! With Smart Tags, your smart home hub can precisely find you that important key or your wallet, saving you the precious time, effort and unwanted stress.
Smart Home Robotic Cleaning Systems
Today cleaning your smart abodes has become a breeze. It's not anymore like holding a vacuum cleaner and going around the house but more of a thing which does its job when you are sleeping, out for work, reading your favorite book or watching your favorite Netflix series. The robot vacuum cleaner requires minimum or no interaction with advanced models which even empty the debris into a bin automatically while returning back to its charging dock.
Smart Outdoors

This is my personal favorite! As a nature lover, I like to maintain my gardens not at the cost of watering the plants and mowing the lawns all day long, but enjoying the flora and fauna. Outdoor automation systems like automatic sprinklers, robotic lawn mowers, etc coupled with a few smart sensors, automatically take data from the soil such as moisture, humidity & temperature and do a perfect job to maintain your smart outdoors.
Smart Wearable Technology
Your smart home hub on your wrist! Right from monitoring your health, to operating your smart garage when you enter back home, wearable technology is bringing in a revolution of how we interact with our smart home. Give voice commands or just touch a button, peace of mind guaranteed!
Conclusion
The world has changed for the better! There have been huge technological advancements in the past decade thanks to which you can now focus and divert your energy and time towards your personal advancement and growth. The COVID 19 pandemic has pushed the Work From Home(WFH) culture to the limits, where jobs and even multi-billion dollar businesses are being managed from home. Don't you think it is the right time to make your home a SMART HOME?
"The ultimate goal of Smart Home Technology is to make us the true master of our home that we can conveniently command by multiple ways!"